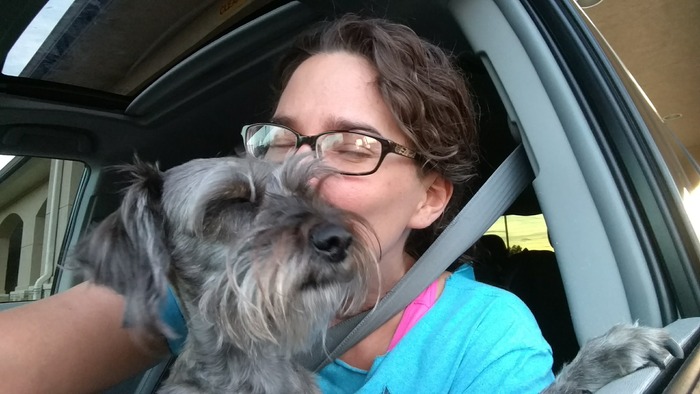 We are happy to announce that Lisa and Lily won the grand prize for their Halo Mother's Day photo! They will receive a year's supply of Halo pet food PLUS a donation of 5,000 bowls of Halo Pets food courtesy of Freekibble.com and GreaterGood.org to a shelter of their choice.
Here is Lisa and Lily's story:
"…Lily, my sweet, gentle, 2 year old Schnauzer mix with floppy ears and skinny tail. This precious girl had been dumped at a local pound as a tiny puppy with Parvo and left to die. A girl with a local rescue group found Lily and thought she might could save her. So she got the meds and supplies she would need and spent an entire weekend working round the clock to nurse Lily to health. 2 weeks later, Lily had gained some weight and was causing a ruckus chasing and playing with the other rescued dogs.
At the time, I had 3 wonderful dogs and my husband insisted we didn't need any more. But I kept seeing so many pictures and hearing sad stories of little ones needing a home. My heart just wouldn't settle. And I saw a picture of this beautiful little Schnauzer mix desperately needing a home and knew I had to call. The girl that answered told me the dog in the picture had already been adopted, but would I maybe be interested in her sister dog? I drove straight to the Vet's office that had her and I will never forget that moment the girl came around the corner with Lily in her arms. She was so tiny and pitiful and absolutely beautiful, my heart almost burst out of my chest when I looked in her little face. And I scooped her in my arms and she leaned her head on my chest and closed her eyes like she had just been waiting on me to show up.
Today Lily is the fastest of my girls and can also outlast all of them. She never wants to stop playing! She is a super snuggler, she loves hugs and kisses, and her very best friend is Maci, a 3 year old Salt and Pepper Miniature Schnauzer we saved as a 5 month old from a family ready to take her to a shelter because they were moving. They are pretty much attached at the hip and even share a kennel for bedtime so they can snuggle to sleep. My kids adore her as does my husband who admits he's thankful I went and got her that day. Most people think I'm a little nuts for having 4 dogs, but I genuinely cannot begin to imagine my life without them."
Lisa has also chosen The Humane Society of Southeast Texas as the recipient for the 5,000-bowl donation.
Thank you Lisa for submitting your photo with your rescue dog and helping shelter pets!