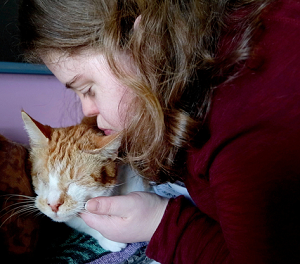 Through an innovative program in Portland, Maine, young adults with developmental disabilities are making a difference in the lives of special needs shelter cats.
According to the Portland Press Herald, The program is a collaboration between the Animal Refuge League and STRIVE, an organization that provides services and recreational opportunities for young people with developmental disabilities.
The STRIVE leadership team thought that volunteering at the Animal Refuge League would be a good life skills experience for their members.
The Animal Refuge League saw an opportunity for their less-adoptable cats to gain some valuable socialization. It was a win-win from the start.
The STRIVE participants come to the Animal Refuge League every Wednesday and settle into the shelter's multi-cat room, which is an area of the facility where the cats are permitted to roam free.
Click here to read the complete story.