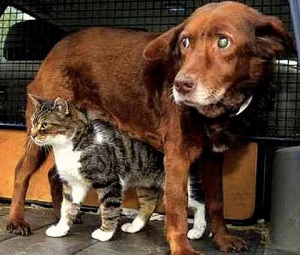 Tervel, a blind 14-year-old lab, was having a hard time making his way around the world. That is, until an unexpected friend, a cranky stray cat named Puddytat, came to live with his family.
The sweet chocolate lab is blind and partially deaf. He kept getting hurt because he'd bump into things, so he would spend a lot of time in his basket, letting the world pass him by.
But then his owner, Anne, inherited a stray cat named Puddytat.
Puddytat isn't the sweetest cat, admits Anne. When the cat first arrived, he wasn't very nice around the other cats in the house but, for some reason he took a liking to Tervel, who brought out a different side of him. "He must have realized Tervel was a bit vulnerable," says Anne.
Click here to read the complete story.