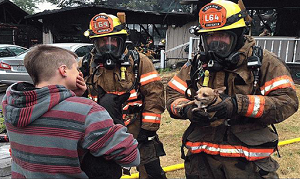 Chloe, a tiny Chihuahua who saved her family by alerting them to a fire in their home, was thought to have perished in the fire when she didn't escape the house with her family.
But firefighters were stunned to find Chloe alive among the rubble of the demolished home in Federal Way, Washington.
According to Newschannel 9, Her family didn't give up hope even after they couldn't find her. "I told (my wife). I said, 'she's hiding somewhere and she's going to be alive.' (The firefighters) came over and they said, 'no way. She has too much smoke. She's probably gone, too," said Bob Fischer, one of Chloe's owners
Click here to read the complete story.